What Can You Learn About Drywall Taping, Finishing and
Texturing
From an Old, Worn-Out
Drywall Finisher?
Plenty!
In fact, you could discover the secrets and insider's techniques that would give you the un-fair advantage!

You won't find this information in the other books or on how-to TV because it's usually only passed on to the "hired" apprentice through on-the-job coaching.
Until Now!
I'm Jeff Croft (the old guy referred to above) and over the years I've done my share of on-the-job coaching.

Every day thousands of people start their own drywall taping projects without this inside information, and the results are always the same:
• Blistered joint tape
• Joints that show through the paint and texture
• EXCESS SANDING!
Let me share with you the "Trade Secrets" that make all the difference!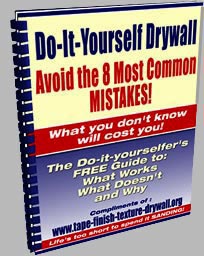 FREE eBook
Right-Click HERE and select "save target as" or
"save link as" to download.
File Size: 1.3MB
Pages: 22
Format:

Adobe pdf
By using ordinary HAND-TOOLS and the detailed information in this course you'll learn:
How to make all types of joints "invisible". This includes BUTT JOINTS, off-set joints, and plaster-to-drywall joints. Your joints will NEVER show again!





How to easily eliminate 95% of the sanding on your very first project!





How to tape and coat inside corners, and a fool-proof option for cheating. Even beginners can have PERFECT corners!





How to straighten ALL TYPES of crooked, nasty-looking inside corners (especially the ones that measure greater than 90 degrees). You'll get them "lazer-straight" every time!





How to eliminate "blisters" in your joint tape.





How to apply SEVEN popular textures including the Sunburst, the Knock-down (sometimes referred to as Skip Trowel), and the Bonus Mud Swirl.





Bonus Guide: A great remedy for sagging plaster or drywall ceilings that supports your old ceiling and insulation, which often means NO tear-out required!



All Backed By FREE Training Videos!
Excess Sanding

Stops Here!
Articles:
Drywall Hole Repair
When it comes to drywall hole repair, the very best method also happens to be the EASIEST! The patched areas will be more RIGID and DURABLE than the existing drywall!

Tips on Hanging Drywall - Links
Do you want to know the REAL cause of most nail pops and tub/shower units that keep cracking at the wall? These important tips on hanging drywall will put an END to these problems.

Tips on Installing Drywall - Walls
Tips on installing drywall that reveal how to build walls that will remain 99%free of nail pops! Learn the fool-proof way to drywall outside corners.

How to Hang Wallboard - Ceilings
Learn how to hang wallboard ceilings that NEVER SAG! Now you can install ceiling sheetrock the EASY way!

Tips on Installing Drywall - Butt Joints
Great tips on installing drywall can "make" or "break" your remodeling project! If you don't build the joints correctly, then all the mud and tape in the world won't save you!

Tips On Hanging Drywall - Inspection
How to inspect a hanging job and other tips on hanging drywall. Can you tell the difference between a good hanging job and a BAD one? Do you know what to look for, or what to ask for in a hanging job?

Bathroom Walls Sheetrock
Install a new tub/shower unit that NEVER CRACKS at the wall! Bathroom walls sheetrock tips for permanently fixing a tub/shower that just keeps cracking!

Sheetrock Nail Spacing
Proper sheetrock nail spacing is the key to preventing loose drywall panels, weak joints, multiple nail pops, and other on-going problems.

Sheetrock and Repair Tips - Sanding Drywall
Sheetrock and repair tips that include the exact same step-by-step routine used by professionals for sanding drywall. IMPORTANT tips for painting over sheetrock.

Sheetrock and Repair Tips - Sanding Stage-1
Sheetrock and repair tips covering Stage 1 of the step-by-step sanding routine that I've used for decades. You'll never miss even 1 flaw . Zero touch-ups after painting!

Sheetrock and Repair - Sanding - Stage 2
Sheetrock and repair tips for eliminating 100% of the "after-painting" touch-ups! Links to IMPORTANT tips for all phases of the job. Painting over sheetrock included!

Tips on Installing Drywall - Definitions
The following definitions and tips on installing drywall will help to speed your learning.

Tips for Painting Over Sheetrock
Making the right choices when painting over sheetrock leads to goof-proof results and a day of painting that's guaranteed to put a grin on your face (even if you hate painting!)

Drywall Mudding Tips - Hot Mud
Drywall mudding tips for using setting-type joint compound - the EASY way. Complete instructions for mixing & clean-up. Large & medium size batches.

DIY Drywall Finishing - Hot Mud - Small Batch
DIY drywall finishing instructions on how to work with setting-type joint compound. The directions on the bag aren't DETAILED! Check out the simple, EASIEST way to mix small batches.

DIY Drywall Finishing - How to "Shave" Setting -Type
DIY drywall finishing techniques for using setting-type joint compound. Did you know that setting-type can be worked and shaped just like "clay"? This stuff is unbeatable when you know how to use it!

DIY Drywall Finishing - Setting-Type Joint Compound
DIY drywall finishing tips that answer the "How", "When" and "Where" to use setting-type joint compound. DETAILED instructions including mixing & clean-up of small & large size batches.