DIY Drywall Finishing:
Working with Setting-Type
Joint Compound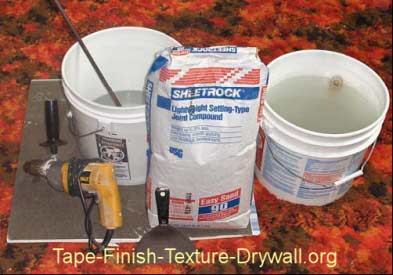 Otherwise known as "Hot Mud", this compound is sold by different manufacturers under several brand names like "Durabond" and "Sta-Smooth".
"Shaving"
The following DIY drywall finishing tips apply to setting-type compound only. For information on EXACTLY how to apply the compound, refer to the Trade Secrets Course.
Setting-Type joint compound sets-up fast, but it's not completely dry. If you try to sand it, it only "clogs" the sandpaper. It's just like hard "clay". So how do I remove lap marks and ridges?
Answer: You could wait for it to completely dry and sand it. However, if you're trying to apply multiple coats on the same day, then you need a "faster" alternative:
DIY drywall finishing tip #1:
Shave it off while it's still damp!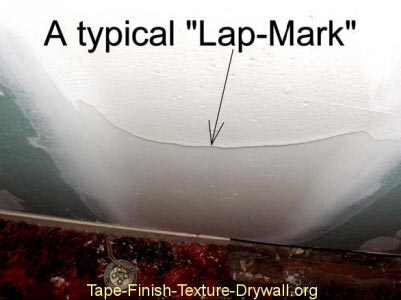 In the "damp" state, if you try to lay your blade flat against the surface and push on the handle in a scraping motion, it can easily cause deep "gouges".
To avoid this problem, try "shaving" the damp compound:
Make sure that your compound is set-up (semi-hard). Grasp your 6-inch blade as shown and place it against the surface at a 90- degree angle to the surface. Use your thumb and forefingers to firmly rake it across the high spots, lap marks, etc. You'll notice that the damp material "shaves" off easily, without causing deep gouges.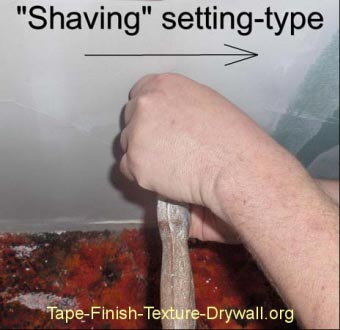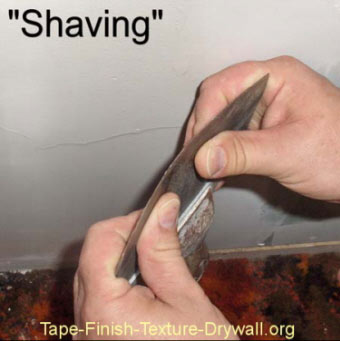 DIY drywall finishing tip #2: By "curving" the blade with your hands as shown above, you can use the curved shape to remove damp material even more quickly. "Pull" the blade along so that the corners of the blade lead.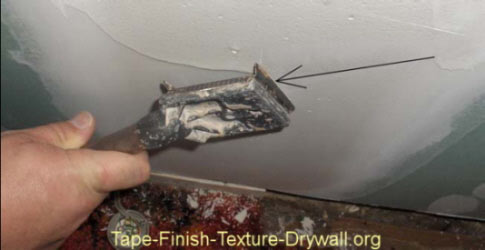 DIY drywall finishing tip #3: I also like using a universal scraping tool like the one shown above for the same purpose. Although this tool is designed for scraping things like old paint, it works great on "damp" setting-type compounds.
Unlike the dust that becomes airborne by sanding these areas in the dry state, the shavings just fall straight to the floor.




When setting type compound sets-up its firm – just like super-hard clay. If you would ever apply too much compound to some part of the job, it's ten times easier to "shave" off the excess in the damp state.
LESS WORK – NO DUST!