DIY Drywall Finishing:
Working with Setting-Type
Joint Compound
Small Batch (2/3 Pan)
The following DIY drywall finishing tips make all the difference if you've never worked with these materials before. There are no fancy tools or gadgets required for pan-size batches, and if you're working with 20-minute setting-type compound, you should never mix more than a pan full at a time anyways.

"Soak Point" or "Breakdown"


Setting-type compound tends to go through a rapid change in consistency approximately 60 seconds after it has made contact with water. In other words, the compound reaches the "soak point". Certain brands will suddenly become "shiny" and instantly "too thin". Some pros call this "break-down".

For patch-work, or a single tub/shower installation, you can mix small batches in your pan by starting with powder, then adding water. This is the only way that I'll mix the 20-min. formula.

DIY Drywall Finishing Tip #1: Whatever you do, DON'T try to mix a large batch of "20". Even a half-bucket is way too much! Keep in mind that we're not trying to mix a perfectly smooth batch here. It's OK if it's a little lumpy.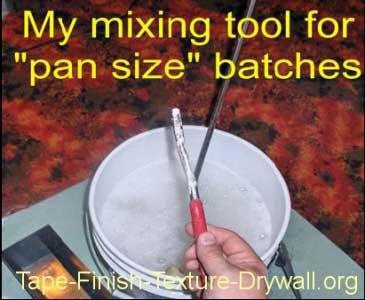 DIY Drywall Finishing Tip #2: I've used the same tool for mixing small batches for decades (½ of a pair of "snap-ring" pliers). Anything that resembles a stick will work!
A TABLESPOON "HANDLE" WORKS GREAT.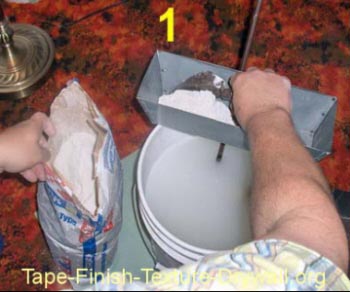 Use a large serving spoon or a scoop to fill your pan with the powder. Handle it "carefully", or it becomes "air-borne" and ends-up in your nose or lungs.
Now that most of the water is gently stirred in, you can pick up the pan without dropping it everywhere. Gripping the tool as shown below enables you to mix with more power, without throwing the material out of the pan.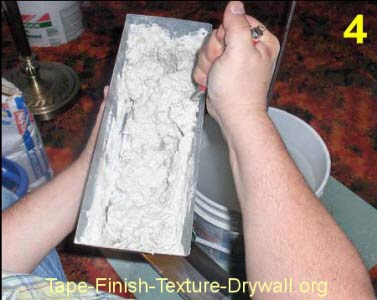 DIY Drywall Finishing Tip #3: When you get the mud "close" to where you want it, but it's still too "thick", it's really handy to use your scrub brush to add small amounts of water to the mix (as shown below.)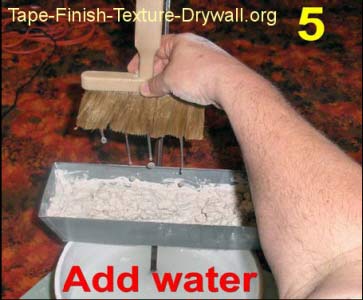 Now you can use the "high speed" setting on your mixing arm! Vigorously "whip" the bar back and forth through the compound until it's well mixed. (My mud pans have "dents" in the ends from this part.)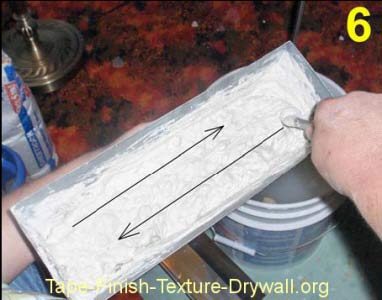 Use your blade to loosen any unmixed material from the sides and bottom. Then, re-mix in the "high-speed mode".
To quickly clean the tool when you're finished mixing, place it half-way into the water and VIGOROUSLY work it back and forth (as shown below.)
When using setting-type compounds, ALWAYS wash all blades and the pan before starting a new batch. Wash the pan first – then the blades.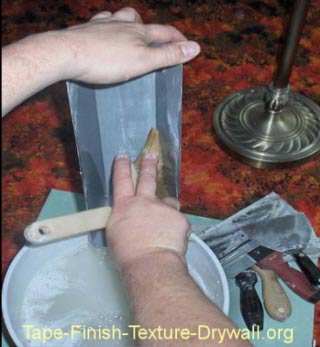 Never allow the compound to set-up
or dry on your equipment.