How to Hang Wallboard Ceilings that NEVER SAG!
The following how to hang wallboard tips are for building SAG-PROOF ceilings -
The EASY Way!
Always choose 5/8-inch drywall with one exception: If your framework is spaced at 16-inches, you can use regular 1/2-inch drywall with no risk of sagging.
If you decide to use "green" (water-resistant) drywall panels on a CEILING, keep in mind that the rules are DIFFERENT regarding sag resistance! The materials/additives that are used to make the panels water-resistant also serve to "weaken" their resistance to "sagging".

This means that your framing MUST be spaced at 12-inches for the 1/2-inch thick green board (to prevent sagging), and your framing MUST be spaced at 16-inches for the 5/8-inch thick "green" board
(to prevent sagging).
For highest strength and sag-resistance, hang the sheets perpendicular to the framing members. Installing drywall ceilings this way also gives you a more uniform ceiling if the framing members are slightly out of alignment.
When it comes to ceilings (or walls): Never over-insulate! For example, if you try to force 10-inch insulation into a 6-inch cavity, you will not increase the "R-value" of the insulation. You will only create excess back-pressure against the drywall which can cause many problems.
A gross excess of "blown - in" insulation can be too heavy and cause sagging also.
Whenever a do-it-yourselfer asks me about how to hang wallboard ceilings, I ALWAYS tell them to use a lift! A "drywall-lift" makes installing drywall ceilings EASY! These are available at most tool rental shops, and they break-down into smaller pieces that can fit into the trunk of a car! Notice that the table tilts for "angled" walls and ceilings.
Once you try it, you'll never go back to the hard way
!
For ceilings, ALWAYS use drywall screws wherever possible (instead of nails). No glue is required when screwing the drywall directly to the framework on ceilings.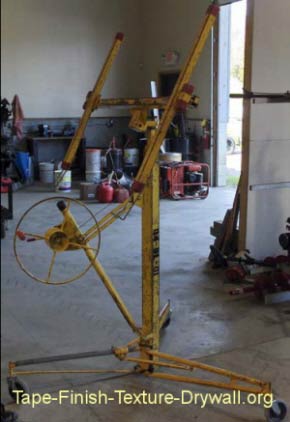 If you're dealing with sagging plaster ceilings, or sagging
drywall ceilings, then you'll be happy to see the how to hang wallboard bonus guide called:
You'll find a step by step plan for correcting most cases of "sagging ceiling". This method actually supports the existing ceiling and gives you the same quality results as new construction without the mess, labor, and health-risks of a complete tear-out!
Related Articles:
Tips on Hanging Drywall - Links
Do you want to know the REAL cause of most nail pops and tub/shower units that keep cracking at the wall? These important tips on hanging drywall will put an END to these problems.

Tips on Installing Drywall - Walls
Tips on installing drywall that reveal how to build walls that will remain 99%free of nail pops! Learn the fool-proof way to drywall outside corners.

Tips on Installing Drywall - Butt Joints
Great tips on installing drywall can "make" or "break" your remodeling project! If you don't build the joints correctly, then all the mud and tape in the world won't save you!

Tips On Hanging Drywall - Inspection
How to inspect a hanging job and other tips on hanging drywall. Can you tell the difference between a good hanging job and a BAD one? Do you know what to look for, or what to ask for in a hanging job?

Bathroom Walls Sheetrock
Install a new tub/shower unit that NEVER CRACKS at the wall! Bathroom walls sheetrock tips for permanently fixing a tub/shower that just keeps cracking!

Sheetrock Nail Spacing
Proper sheetrock nail spacing is the key to preventing loose drywall panels, weak joints, multiple nail pops, and other on-going problems.

Tips on Installing Drywall - Definitions
The following definitions and tips on installing drywall will help to speed your learning.